Contident is the first Hungarian dental clinic to accept Bitcoin and altcoin payments
Cryptocurrencies are more and more popular. As a result of their popularity a growing number of businesses are starting to implement cryptocurrencies as a payment option. Contident is the market leader in this area, since they are the first dental clinic to accept cryptocurrencies.
Contident offers multiple payment options for your treatment. Naturally, you can choose one of the traditional payment methods like cash or bank transfer. The other option is paying with cryptocurrencies. Although by getting a dental treatment at Contident you can save a lot of money, carrying a large amount of cash with you is always risky. Choosing bank transfer is definitely a safer option, but the international transaction fees are usually quite high. Paying with cryptocurrencies is the best choice if you want to choose a safe payment method, avoiding high transaction fees at the same time. Contident accepts the following cryptocurrencies as means of payment: Bitcoin, Ethereum, Litecoin and surprisingly Dentacoin as well. Dentacoin is a decentralized, blockchain-powered platform that uses smart contracts to eliminate the middleman (the big insurance companies) and establish a direct relationship between patients and dentists. This alternative payment method shows that Contident is open to new technologies and that it keeps up with the newest trends on the market. As cryptocurrencies become more and more popular, Contident will always enjoy the benefits from the fact that they were the first Hungarian dental clinic to start accepting cryptocurrencies.
A few words about dental tourism in Hungary
Although for some people dental tourism may sound like a new trend, it is anything but. Dental tourism in Hungary started in the 1980ies when Austrian citizens realized that they can save a lot of their hard earned money if they get their teeth fixed on the other side of the Hungarian-Austrian border. With time, patients for other European countries started to join this trend and today patients travel from almost every continent to reap the benefits of dental tourism in Hungary. This trend resulted in the development in Hungarian dental tourism, the education of highly trained dentists and the usage of the most recent technologies in the field of dentistry. Nowadays, more than 100.000 people travel to Hungary for dental care every year. There are a few reasons why dental tourism became so popular in Hungary over the years:
Lower prices of dental procedures made Hungary the number one choice for dental patients, which made Hungarian dental tourism a highly advanced field of medicine
Despite the lower prices, the quality of dental treatments is extremely high
The privatization of dental care in the 1990ies provided increased funding for clinics, raising them to the international standards of dentistry
Since Hungary became a member of the European Union, travelling to Hungary for European citizens is incredibly easy and cheap
Patients from EU member states can require tax refunds in their home country, further reducing the cost of the treatment
Given that Hungary is a very attractive travel destination, a lot of tourists combine their holiday with a cheap dental treatment.
Contident – Dental tourism in the heart of Budapest
Contident is a dental clinic on the North side of Budapest with almost 10 years of experience in dental tourism. The clinic provides a wide range of treatments, including: dental crowns, implants, inlays, venners, dentures, tooth whitening and many more. The prices of these treatments are in in most cases 50-70 percent cheaper than in the UK.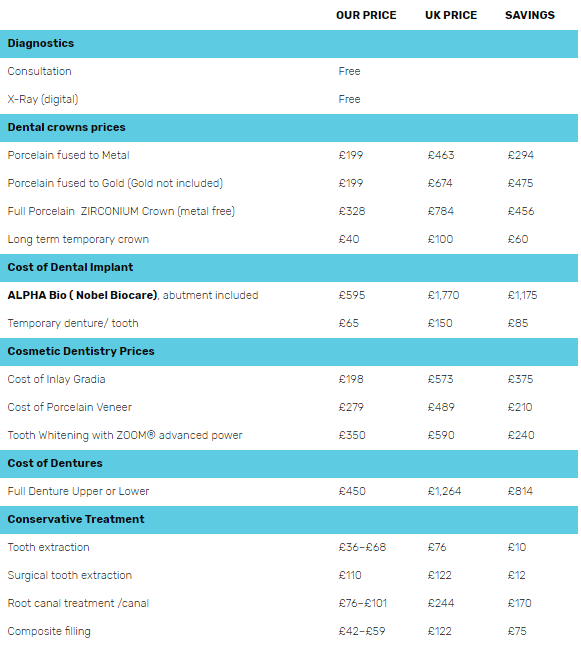 Here are some of the benefits Contident has to offer:
Contident's patients are assisted from their arrival to Budapest to the moment of their departure, making their stay in the capital as comfortable as possible
Contident helps its patients in booking flights to Budapest and arranging accommodation if they request
Efficient and high quality dental treatment for a reasonable price
Friendly, helpful and professional staff
Fast response to any question a patient might have
Most of the treatments are done within a week.

These benefits are the reason why Contident treats more and more patients every year. Most of the patients are from the United Kingdom, but people have visited the clinic from a great number of countries, including: Austria, Germany, Netherlands, United States of America, Canada, Australia, Saudi Arabia and many more. In these countries dental treatment is either very expensive or low quality. Moreover, in some countries people with health insurance usually have to wait weeks, or even months to get their teeth fixed. Contident provides an alternative to these patients that is affordable and has a reasonable time frame.
How to plan your dental treatment at Contident
Even though getting dental treatment in a foreign country can seem complicated, Contident makes the whole process very easy for its patients. The first thing you need to do is contact the clinic via phone or email. For a better understanding of your dental needs Contident recommends doing a panoramic x-ray in your nearest dental clinic. After you send the result of your x-ray to Contident, one of the staff members will contact you in a few hours and within 48 hours you will get a detailed description of your treatment plan and its cost in fiat or in crypto. This allows you to know exactly how much money you'll need for the treatment and how long you will have to stay in Budapest. Having these information makes it extremely easy to plan your trip to Hungary, especially with the help of Contident's friendly staff members. Contident also offers a Free dental consultation and Flight package. This allows you to have the initial consultation at Contident, without the additional costs of the flight ticket, hotel, panoramic x-ray and others.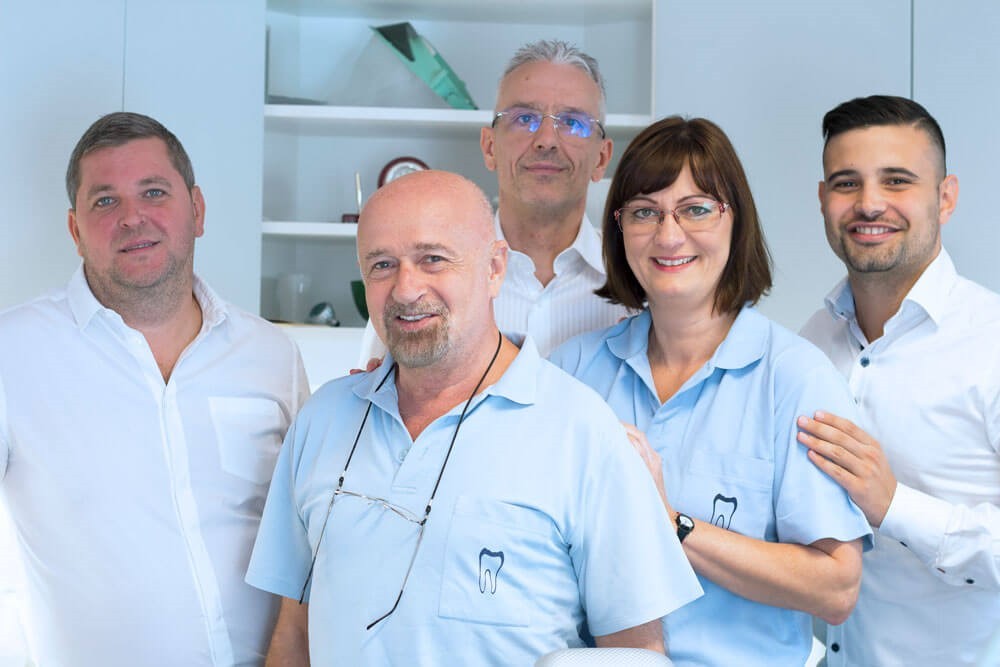 After you arrive to Budapest, transport from the airport to your apartment and from your apartment to the clinic is provided by Contident for free. You don't have to worry about the difficulties of communication in a foreign country either, since every Contident staff member speaks English fluently.
Conclusion
Choosing the right dentist for your needs is an extremely hard task, especially in a foreign country. However, the above mentioned benefits Contident has to offer makes this choice a little bit easier. By choosing this clinic you can be sure that you will receive the highest quality treatment possible for an extremely affordable price. After your arrival, Contident's team will make sure that your stay in Budapest will be more like a vacation than a simple trip to get your teeth fixed.