Hungarian blockchain agriculture startup Inventori lands VC funding opportunity
The blockchain-based Hungarian agriculture startup Inventori is going to finish up its year the same way they started it – with unstoppable successes. In addition to the many Hungarian and European accelerator programs they had to chance to participate in, they have also landed venture capital funds from Solus Capital.
Previously on: Inventori's story so far
We've had a lot of opportunities to get to know the team behind Inventori. After their initial pitch at the 2019 Budapest BlockStart Pitch Night, we asked the guys for an interview. Since then, we've been providing our readers with updates on their progress and successes – which seem to have multiplied since our last post.
Inventori's blockchain-based digital platform provides a solution for managing inventory and traceability systems for supply chain participants in the agricultural sector. Companies using Inventori's product can facilitate the management and administrative processes of traceability systems such as ISCC or non-GMO. With the use of blockchain technology, they can help with the preparation of supporting documents and the verification of product movement in the supply chain. Inventori can not only reduce the stress and hours spent on tedious administrative work and audits, but they can also save the companies a lot of money.
Venture capital is coming
We could go on listing the advantages but the considerable amount of investor interest in the project is probably the most telling result. The biggest piece of news is definitely the new deal the team of Inventori reached with Solus Capital, a Hungarian venture capital fund. The investment is indeed very new as it was only announced in November. Solus Capital is part of MKB Financial group. They accelerate the development of early-stage, growth or mature companies through capital investments and advisory.
Apart from landing funding opportunities, developing and improving the startup has also been a big priority this year. We have already written about some of the mentorship programs the team is taking part in this year: one being the DMS Accelerator program that helps data-driven European startups. Another great opportunity is the X-Europe Accelerator Program that runs from this October to December and also provides mentoring and helps connect investors and startups. In addition to the European programs, the team of Inventori has also benefitted from the Hungarian Chamber of Agriculture's incubator program aimed to help startups in the agricultural sector.
Inventori has also challenged itself with a couple competitions. They have proved themselves at the Block.IS, the BlockStart and DIH Farm2Fork Hackathon competitions. Block.IS and BlockStart have also chosen the team to participate in their respective accelerator programs and have provided grants to Inventori.
New successes merit a brand-new website and office for Inventori
Innovation and continuous improvement are not only present in Inventori's platform, but it's true for the whole company: this fall, they have come out with a brand-new website you can check out by clicking here. But it's not only an online move. The team has also moved to a completely new office in real life. As the team has evolved and welcomed several new team members, a bigger office in Kecskemét was more than necessary. The team has sent us a picture from moving day and one thing is sure: after a year filled with non-stop excitement, their smiles could not be wider.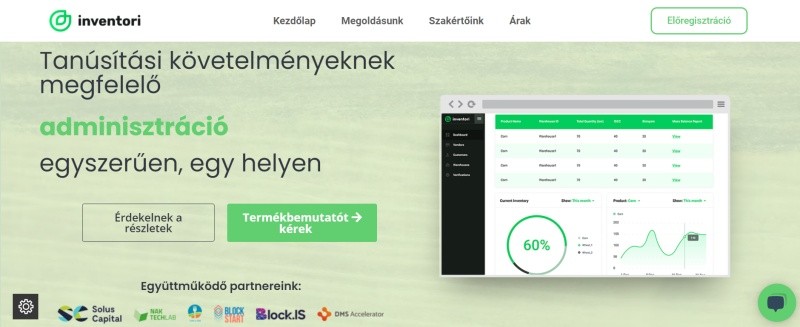 As always, we are really excited to see what else is in store for the team. The new VC funding definitely promises a lot of new opportunities for 2021. We can also promise one thing: we'll let you know when something big comes along for Inventori in the future.
If you'd like to learn more about the new Hungarian agricultural inventory and traceability startup, you can check their website by clicking here. To apply for a product demonstration, click here.